A Comprehensive Guide To All Of Halsey's Tattoos
Recently announced as one of this year's iHeartRadio MMVAs performers, Halsey is no stranger to creative expression. That can be said for her music, her style, her many hair colours, and even her ink. The 23-year-old singer has been going under the needle since she was 16, and now boasts over 25 tattoos . From dainty line work, to suave script, she's been giving us major #TattooGoals ever since her Badlands days in 2015.
1. Anchor
It all had to start somewhere, and for Halsey, the first tattoo that she ever got was an anchor with her mother's initials when she was just 15. She tells iHeartRadio that her mother was covered in tattoos, which played a huge role in her artistic inspiration. She begged Mamma Frangipane to get inked, so her mother agreed and suggested that they get matching anchors on their feet as a scare tactic (feet are one of the most painful spots to get a tattoo). Her plan backfired because Halsey fell in love at first sight with her ink, saying 'This is great! I want to get more!'
2. BRAT
Although "brat" means "sibling" in languages such as Russian, Serbian, and Polish, Halsey's tattoo represents something entirely different. The singer told a fan via Twitter that she got the tattoo because it's something that her parents have always called her. At least she considers it as a term of endearment!
https://www.instagram.com/p/BTkx2j-jbCQ/?hl=en&taken-by=iamhalsey
3. Kissing mouths
Although she hasn't revealed the meaning for this piece, we're loving the minimalistic vibe of this illustration of two lovers kissing. What we do know is that it was done by Toronto-based artist Curt Montgomery in August 2014.
https://www.instagram.com/p/BIss2aWgmak/?hl=en&taken-by=iamhalsey
4. Queen of Diamonds
On June 27, Halsey took to Instagram to reveal this teeny, tiny face tattoo positioned subtly by her left ear. Along with Post Malone and Justin Bieber, Halsey finally joined the face tattoo club with this piece, but she was quick to state that this will be her first and only face tattoo.
https://www.instagram.com/p/BkjgVHXHg8o/?hl=en&taken-by=iamhalsey
5. Her lucky number
In an interview with iHeartRadio, Halsey states that this knuckle piece is purely about luck, saying:
"It's my lucky number. My fans know it. It's on my merch. It's in their usernames on Twitter. Seventeen just means something to us. I didn't know it at the time, but 17 was the year for me where I became Halsey. I just didn't know the name yet."
6. Sheet music
Halsey's subtle sheet music tattoo located on the back of her arm is comprised of four whole notes that can be heard in some of her own music. The music notes are most prominently featured in her tune "Castle."
https://www.instagram.com/p/Be8dfVxndaI/?hl=en&taken-by=iamhalsey
7. Little Prince symbols
Being a lover of literature at heart, Halsey's thigh tattoo consists of four elements that are inspired by the classic French novella, The Little Prince. The famous story quotes "It is the time you have wasted for your rose that makes your rose so important," which just might symbolize all of the blood, sweat, and tears that she puts into her career.
https://www.instagram.com/p/BEsDIVsnOIm/?hl=en&taken-by=iamhalsey
8. Roses
Probably one of her most recognizable pieces, Halsey got a tattoo of two outlined roses on her shoulder on her 16th birthday. Although the piece is beautiful, Halsey has always strived to have a unique style that's 100 percent original. Although the roses are one of her more iconic pieces, she took to Twitter in 2014 and posted "I wish I could go back in time and tell myself not to get the two roses tattooed since everybody else in the world has one now."
I wish I could go back in time and tell myself not to get the two roses tattooed since everybody else in the world has one now.

— h (@halsey) May 28, 2014
9. Minimalist portrait
Although this tattoo looks like a self-portrait of the singer, Halsey has yet to divulge the secret meaning behind this piece. One theory could be that it was inspired by Norwegian producer Lido's album titled Everything. Not only has the producer worked on her debut album Badlands, but he's also an ex-boyfriend of Halsey. The two didn't end on great terms, as Halsey even ended up writing the song "Lie" about Lido.
10. "Match"-ing tattoos
For her matchstick tattoo, Halsey decided to do something special with her fans that no other artist has ever done before. The singer gathered three lucky fans on Twitter to meet up with her in an L.A. tattoo shop so that they could all get matching tattoos together. The best part? The girls had no idea what they were going to get, it was all up to Halsey to pick the design. One fan even missed her own prom for the meet-up, but we think it was well worth it. Halsey chose the design of an unlit match to represents not playing all of your good cards like you have them.  The unlit match symbolizes potential that can strike at any moment, and Halsey told the girls that when they feel as if they've reached that point of potential in their lives, they should go and get the flame added to it, and she'll do the same.
11. Mars
Horoscope-loving Halsey decided to get another matching tattoo, but this time, it was with a friend that she made while on tour.
"His birthday is on my half birthday, and I'm a Libra. So my ruling planet is Venus, and his ruling planet is Mars." she states. When Halsey discovered that the two planets were also opposite, the signs were opposite, and the astrological personalities were opposite, she wanted them to get the other's ruling planets. Opposites do attract!
12. 511
Halsey shows a little sibling love with one tattoo that she's had for years. May 11, 1998, marks the birthday of her little brother, Sevian Frangipane, so she got this commemorative piece on the back of her arm to show a little love for her little bro.
"When I got this one and came home, my 10-year-old brother was devastated that I didn't get his birthday (Halsey has two younger brothers). So I'm keeping [my other] elbow clean," she tells iHeartRadio. "It also used to be my password to stuff, and it occurred to me how awful it was that I was walking around with my password to everything literally tattooed on my body."
13. Upside-down horseshoe
In tattoo culture, it's known that you aren't supposed to tattoo a horseshoe upside down, as that symbolizes all the luck spilling out and wasting away. Halsey decided to rebel against the rules and tattoo the horseshoe upside down to symbolize the fact that she doesn't need luck, she simply works extremely hard and believes that nothing happens to anyone based off of sheer luck. Halsey ended up begging a well-known tattoo artist named Joshua Marks for this piece, as he's known for his upside-down horseshoes.
14. "I'm a loser baby" Beck lyrics
Although the "Now or Never" singer has yet to explain this piece, we think it may have to do with the fact that she may be a pretty big Beck fan. "I'm a loser baby" is a well-known Beck lyric from his '90s anthem, "Loser."
15. Hopeless
Representing her sophomore album Hopeless Fountain Kingdom, this may be one of Halsey's more scandalous placements. Halsey flaunted her booty tattoo for the first time in June 2017, when she was also still rocking her bright-blue mermaid hair.
16. Serendipity
Halsey's "Serendipity" tattoo located on her ribcage was no happy accident, but the meaning behind the quote definitely was.
"Serendipity is a word that means, 'a happy accident.' Which is I think how my mom explains my existence, as a happy accident, because she was 19 when she got pregnant with me, and it was definitely an accident. But one that I think she considers a happy one," she tells iHeartRadio. "I think it's influenced me big time as well because it's made me look at some of the accidents in my life, and all the things that have culminated from it."
17. Romeo and Juliet quote
"These violent delights have violent ends" is a Romeo and Juliet quote that Halsey got on Venice Beach right after she signed her record deal. As a lover of literature, she believes that it made sense to her, and she chose this quote as a reminder to pace herself.
"Anything you do violently, will end violently. And it doesn't mean physical violence. It more refers to excess I believe. It's like if you drink violently, it will end violently." she tells iHeartRadio. " If you do anything violently, like with too much too-muchness, it's going to end poorly for you."
18. Playboy symbol
Located right under her upside-down horseshoe, Halsey's Playboy tattoo is inspired by a drawing that a friend gave to her. She also states that she got the tattoo to commemorate her appearance on the cover of the famous magazine. In response to a hater on social media who criticized the singer for appearing on the cover of Playboy, she claps back"Newsflash. A woman can be multi-dimensional. #WeAreNotJustOneThing."
https://www.instagram.com/p/BYIX4tuDTSH/?utm_source=ig_embed
19. Om symbol
Halsey's Om symbol is located on her right inner-arm and represents the sacred sound in Hindu religion. It's also a mantra in Hinduism, Buddhism, and Jainism.
20. XXX
The caption says it all. "Now I'm the human version of a parental advisory sticker." she tweeted. The hand tattoo also has a double meaning, as she tells iHeartRadio:
"My grandma used to do x's for my brothers and I, so it's me and my two brothers. But it kind of turned into a different meaning, because it almost means like a parental advisory," she says. "So it's almost like a joke, like I myself have a parental advisory label on me, on my body."
Now I'm the human version of a parental advisory sticker. pic.twitter.com/Vxfs1Qzwmc

— h (@halsey) July 7, 2014
https://www.instagram.com/p/BXyfPvwDGIw/?hl=en&taken-by=iamhalsey
21. Star Wars symbol
As if Halsey couldn't get any cooler, she's also a die-hard Star Wars fan. The singer got a tattoo of the Mandalorian emblem that Boba Fett wears on his helmet. The symbol also represents bounty hunters, which in Halsey's mind, is a form of badass-ness. Only die-hard Star Wars fans like Halsey will understand this deep-cut reference.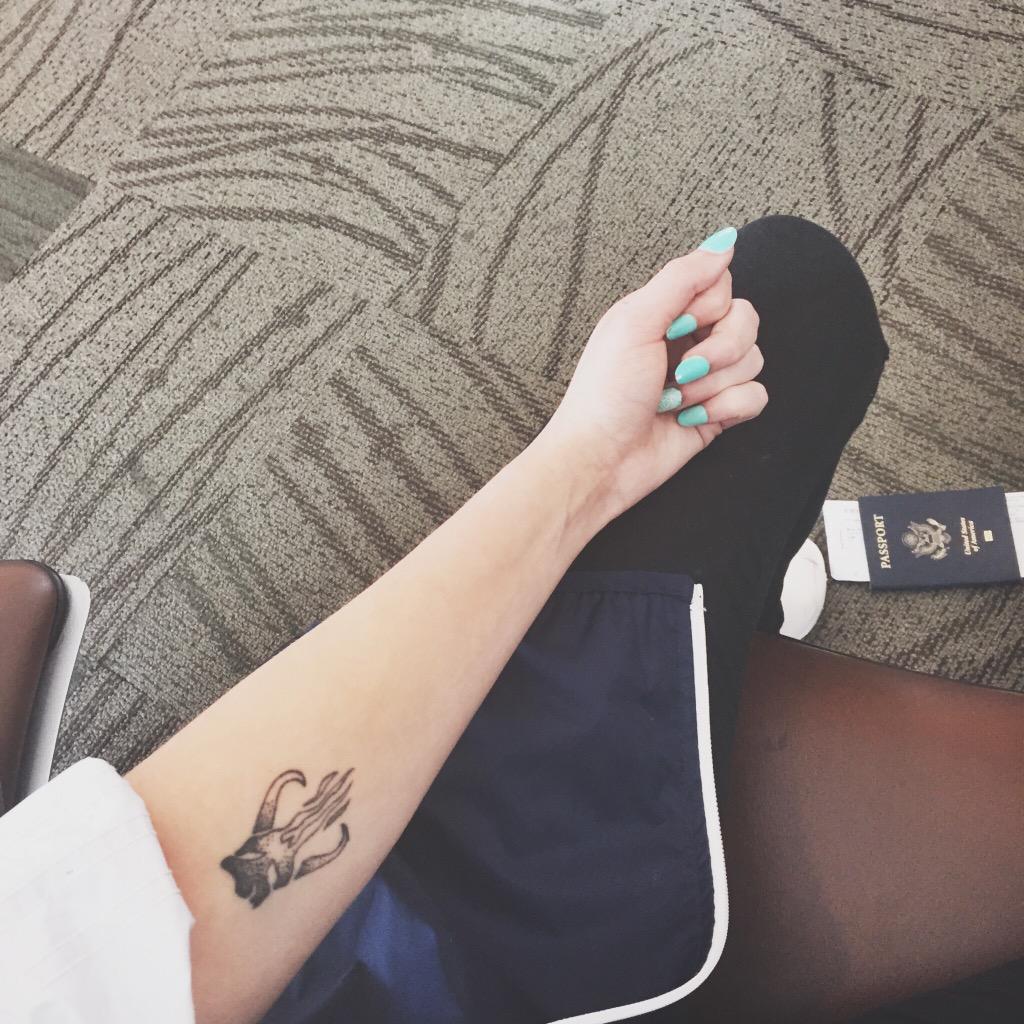 22. FEROX
This particular piece is the only tattoo she has that's done in the DIY stick-and-poke style, all of her other pieces are done professionally.
"It means fierce in Latin and was given to me with a sewing needle, India ink, and a lot of vodka." she tweets in response to a fan.
@Katarina__96 "FEROX" it means fierce in Latin and it was given to me with a sewing needle, India ink, and a lot of vodka.

— h (@halsey) March 25, 2014
23. Dagger
The traditional flash tattoo that Halsey has on her right thigh has an anything-but-traditional backstory.
"I got it in remembrance of a friend that passed away. It's all scarred and gross. When you're from Jersey when you go to senior prom, you go down to the beach." she tells iHeartRadio. "We were on the shore, and I had just gotten this tattoo, and I was running on the beach, and rolling around in the sand, and in the water, and came out, and realized the whole thing was just bleeding. I had sand stuck in it, and I was like 'this is why you're supposed to be a grownup when you get a tattoo.'
24. Nightmare
Hollywood-based artist Emily Effler tattooed this cute little typewriter tattoo on Halsey's spine back in January, making it one of the singers only back tattoos in sight.
https://www.instagram.com/p/BeW7SUXAkFo/?hl=en&taken-by=emilyeffler
25. Heaven in hiding
The "heaven in hiding" tattoo located on Halsey's right forearm represents one of the songs from her 2017 album, Hopeless Fountain Kingdom.
https://www.instagram.com/p/BXPpE7yjaVm/?utm_source=ig_embed
Halsey has a new tattoo that says "heaven in hiding" pic.twitter.com/XCSxAK7B24

— HALSEY UPDATES (@halseysupdating) May 7, 2017
Catch Halsey at the 2018 iHeartRadio MMVAs alongside other performers Megan Trainor, Shawn Mendes, Kris Wu, 5 Seconds Of Summer, Alessia Cara, and Marshmello featuring Anne-Marie.
The 2018 iHeartRadio MMVAs hosted by Awkwafina go down Sunday, August 26 at 9/7MT on CTV and Much.